Addressing the same invention requirement for reissue patents, the US Court of Appeals for the Federal Circuit affirmed a Patent Trial & Appeal Board decision to reject an overly broad reissue application. In re Float'N'Grill LLC, Case No. 22-1438 (Fed. Cir. July 12, 2023) (Prost, Linn, Cunningham, JJ.)
Float'N'Grill (FNG) owned a patent directed to a floating device that supports a grill so that users can grill food while in water. The patent's specification lays out a single embodiment, illustrated in Figure 1 below, which includes a float (20) that has two supports (46, 48), each of which "includes a plurality of magnets" (60) so that the grill can be removably attached to the float: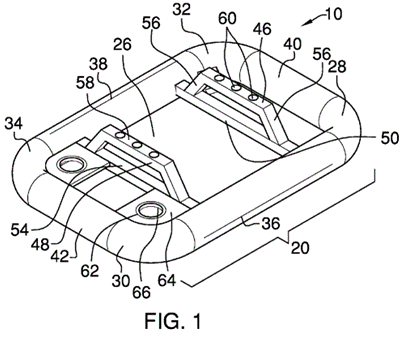 FNG filed a reissue application that claimed new ways to "more generically" removably attach a grill to the float. In rejecting the reissue claims, the Examiner found that three of the new requested claims required zero magnets, three claims required one magnet, and one claim did not specifically require magnets but referred to a magnet in the preamble. This was in contrast to the issued patent's only embodiment, which required multiple magnets. The Examiner, therefore, rejected the reissue claims for failure to meet the "original patent" requirement of 35 U.S.C. § 251. The Board affirmed. FNG appealed.
The question on appeal was whether FNG's newly requested claims complied with § 251. The Federal Circuit explained that the only path to expanding the coverage of an issued patent is through a reissue application, which is subject to § 251's limitations. Pertinent here, § 251 requires reissue claims to be directed to the same invention disclosed in the original patent. Citing Supreme Court and Federal Circuit decisions, the Court described the "original patent" requirement as a question of whether the issued patent's disclosed invention "on its face, explicitly and unequivocally describe[s] the invention as recited in the reissue claims."
Turning to FNG's reissue claims, the Federal Circuit agreed with the Board, finding that the new claims were not directed to the same invention as the original patent and thus failed to satisfy § 251. The Court explained that the specification of FNG's issued patent had just one embodiment, which featured "a plurality of magnets" to removably attach a grill to the floating device. The reissue claims, however, contemplated more general attachments without magnets.
FNG argued that its claims were acceptable under § 251 because the magnets were a "non-essential embodiment" of the invention. The Federal Circuit disagreed for four reasons:
An element of a patent may be deemed essential even if the patent does not explicitly state as much. Thus, the magnets were essential to FNG's original patent, even if not labeled so.
It is irrelevant that a person of skill in the art may know to replace an original patent element with "some other undisclosed mechanism" to reach the same result. Here, a new way to attach a grill to the [...]

Continue Reading
---