Ending a hard-fought three-year campaign to secure registration of a popular handbag, the US Patent & Trademark Office (PTO) Trademark Trial & Appeal Board designated as precedential its decision refusing registration of the product configuration mark, deeming it a generic configuration not eligible for trademark registration. The Board also concluded that even if the bag design had not been generic, the applicant failed to make a necessary showing that the design of the bag had acquired distinctiveness. In re Jasmin Larian, LLC, Serial No. 87522459 (TTAB, Jan. 19, 2022; redesignated Mar. 29, 2022) (Cataldo, Lynch, Allard, ATJ).
Fashion brand CULT GAIA's "ARK" handbag is composed of bamboo strips creating a creating a see-through "sunburst design," and has been carried by celebrities such as Beyoncé and Jessica Alba. The brand's founder and CEO Jasmin Larian sought registration on the Principal Register of the following mark for a three-dimensional handbag: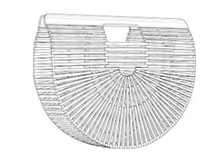 After several years of examination, the examining attorney ultimately issued a final refusal on the ground that the proposed configuration was a generic configuration, or alternatively, was a nondistinctive product design that had not acquired distinctiveness. Larian appealed to the Board.
Acknowledging the commercial success of the CULT GAIA ARK bag, the Board explained that the issue before it was whether the proposed mark was generic (i.e., a common handbag design), or, alternatively, whether the bag constituted a nondistinctive product design that had acquired distinctiveness. The Board tackled both questions, since similar evidence was relevant to both inquiries.
A trademark must be distinctive to be eligible for registration. Such distinctiveness is measured on a spectrum, where one side of the spectrum is made up of generic terms or generic designs (i.e., non-distinctive and non-protectable as trademarks) and the other side is made up of registrable trademarks that are arbitrary or fanciful. Suggestive trademarks fall somewhere in the middle. In the context of product designs, genericness may be found where the design is so common in the industry that the design cannot be said to identify a particular source of the product. Generic product designs fail to function as a trademark. Genericness is assessed by determining the genus of the goods or services at issue, then determining whether the consuming public primarily regards the design sought to be registered as a category or type of trade dress for the genus of goods or services. For the ARK bag, the applicant and the examining attorney agreed that "handbags" was the genus of the goods at issue. The relevant consuming public was found to consist of ordinary consumers who purchase handbags.
The Board reviewed the evidence of record to assess the significance of the bag design to ordinary consumers, i.e., whether they viewed the configuration of the bag as a source-identifying trademark or merely as a common handbag design. The Board detailed eight different categories of evidence, which, according to the Board, showed that "in the decades leading up to and the years immediately preceding [...]

Continue Reading
---