In a twin set of precedential opinions, the Trademark Trial & Appeal Board laid the foundation for determining whether building designs can be trademark protected as service marks. In re Palacio Del Rio, Inc., Ser. Nos. 88412764; 88437801 (TTAB May 25, 2023) (Shaw, Goodman, Hudis, ATJs); In re Seminole Tribe of Florida, Ser. No. 87890892 (TTAB May 25, 2023) (Taylor, Greenbaum, Johnson, ATJs).
The subjects of the opinions were the designs of the Hilton Palacio del Rio in San Antonio, Texas, and the Seminole Hard Rock Hotel & Casino in Hollywood, Florida. The Board concluded that the former was nondistinctive trade dress, whereas the latter constituted protectable trade dress. For reference, the two designs at issue appear below: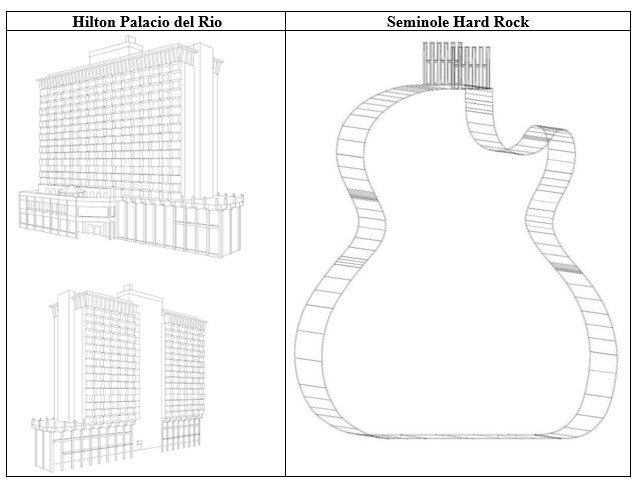 In the Hilton case, Hilton sought separate registrations for the three-dimensional design of the "River" and "Street" sides of its hotel building due to their "unique and readily recognizable design," consisting of a pattern of alternating protruding and receding rectangular shapes created by the assembly of the hotel's modular guest rooms. Similarly, Seminole Tribe argued that its guitar-shaped building was akin to product packaging that can be protected under trade dress.
In both cases, the Board anchored its analysis in Supreme Court precedent in Two Pesos v. Taco Cabana (1992) and Wal-Mart Stores v. Samara Bros. (2000), but with a different result in each case. As an initial matter, in both the Hilton and Seminole cases, the Board confirmed that a building structure, if inherently distinctive and not mere product design, could constitute protected trade dress. The Board analogized a hotel's design to product packaging, which dispensed with the need to show secondary meaning.
Where the outcomes diverged, however, was the distinctiveness of the buildings that the two entities sought to protect. In the Hilton case, the Board determined that the record did not demonstrate that the Palacio del Rio's building design was sufficient to differentiate it from competitor hotels. Although Hilton submitted customer declarations claiming that the Rio's design was unique, the Board did not credit such evidence on the grounds that the customers did not have personal knowledge about what was commonplace in the hotel industry and that the declarations were substantively scant.
In the Seminole case, the Board found that the record reflected that no other hotel had the Hard Rock's unique guitar design. Analogizing to In re Frankish Enterprises (TTAB 2015), in which a monster truck was found distinguishable from all other monster truck designs of record, the Board concluded that the guitar design was inherently distinctive.
Practice Note: Now that hotels have cracked the door open for building design trademarks, it remains to be seen whether other types of unique buildings will follow suit. As the two cases collectively demonstrate, developing a supportive record—i.e., one founded by compelling evidence of uniqueness—is likely necessary to secure a trade dress for building design.
Rick [...]

Continue Reading
---