The Trademark Trial & Appeal Board (Board) issued a precedential decision affirming the US Patent & Trademark Office (PTO) Examining Attorney's refusal to register two different logo marks filed by southern California's County of Orange because the marks consisted of and comprised, respectively, an insignia of a municipality. The Board found that a logo adopted by a government entity does not have to be "official" to constitute an insignia for which trademark registration is prohibited under Section 2(b) of the Trademark Act, 15 U.S.C. §1052(b). In re County of Orange, Ser. Nos. 87419378; 87639750 (TTAB, Aug. 4, 2022) (Shaw, Coggins, Allard, Administrative Trademark Judges).
The County applied to register two logo marks. The US trademark applications described one mark as "a circle with the image of three oranges in front of an orange grove and . . . mountains with the words 'COUNTY OF ORANGE' . . . and . . . 'CALIFORNIA' . . . [around] the circle" (Circle Mark). The second logo mark featured a park ranger badge design that encompassed the Circle Mark in its entirety.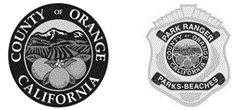 The PTO examining attorney refused registration of both logo marks under Section 2(b), which imposes an absolute bar on registration on either the Principal or Supplemental Register of a mark that "[c]onsists of or comprises the flag or coat of arms or other insignia of the United States, or of any State or municipality, or of any foreign nation, or any simulation thereof.". This section reflects the sentiment that such symbols are indicia of government authority that ought to be reserved solely for signifying the government, and which should not be registered as symbols of origin for commercial goods and services.
On appeal to the Board, the County argued that the logo marks did not constitute "insignia" because they were not an "official" seal of the County, and, even if they were, registration should not be precluded because the County is not a "municipality." Considering both of these arguments in turn, the Board provided analysis specific to both the circle and badge iterations of the applied-for logos.
The County argued first that the proposed marks could not constitute an insignia of Orange County, California, because the County created and adopted an official seal (a design of an orange having a stem with three leaves) more than a century ago, in accordance with the applicable state government code requiring a two-step process for adopting an official seal.

The Board found this argument unpersuasive, noting that although the Circle Mark had not undergone the state's two-step process to become an "official" seal, Section 2(b) does not distinguish between "official" and "unofficial" insignia. Therefore, formal adoption of an "official" seal is not required for an insignia to otherwise fall under the Section 2(b) bar to registration.
The Board explained that the County uses the Circle Mark for a plethora of official government business [...]

Continue Reading
---